Welcome to the Potton Neighbourhood Plan website.
You have probably seen us at the various community events in Potton over the summer and we'd like to give you a brief outline of what exactly a Neighbourhood Plan is and how the steering group, led by Potton Town Council, are working on producing Potton's development plan until 2035.
What is a neighbourhood plan?
A neighbourhood plan is a plan drawn up by a community that sets out a shared vision, policies and proposals to shape future growth and development of the local area. Once agreed by Central Bedfordshire Council (CBC) and ratified by a referendum by the residents of Potton, the Neighbourhood Plan will become a statutory document which means that by law it has to be taken into account by CBC when planning applications are being determined.
A Neighbourhood Plan:
Allows people to have a say on where new homes, shops, businesses and community facilities should go and what they should look like.
Gives people the opportunity to identify and help protect areas of green space that are of particular importance to them.
Cannot stop development but it can guide or encourage further development.
Why produce a neighbourhood plan?
A neighbourhood plan can give people real power to shape the development and growth of their local area. There are many potential benefits of a neighbourhood plan in terms of outcomes and also the process of preparing one. For example, a neighbourhood plan can:
Give local people greater ownership of the planning policies in their area
Allow a community to set out where development should go and what it should look like
Bring the community together to share ideas and build consensus about the needs and priorities for the area;
Help create lasting partnerships to take forward actions that may arise from the process;
Raise awareness and understanding of planning;
Improve relationships between the community and the Town Council;
Provide a detailed evidence base about the community;
Inform local authority strategies
We hope that you will support us in writing the Potton Parish Neighbourhood Plan in order to secure Potton's future.
Latest updates
The Potton Neighbourhood Plan – the next step is a referendum in October
After three years of hard work, Potton Town Council have now submitted their Neighbourhood Plan to Central Bedfordshire Council (CBC).
As the Local Planning Authority, CBC undertook a publication period of the Neighbourhood Plan to provide an opportunity for all parties to comment on the submitted proposals before the plan goes ahead to Examination. The consultation started on Thursday 14th February and ran for a 6 week period, closing at 5pm on Friday 29th March.
An Independent Examiner, Andrew Ashcroft, has been appointed by CBC and he has carried out a thorough examination of our Neighbourhood Plan,  and his report is located in the Neighbourhood Plan section of the website.
The Potton Neighbourhood Plan and supporting documents have been amended in line with the requirements in the Independent Examiner's report and will be presented to the Potton Parish residents in a referendum in October. You will be asked a single question:
Do you want Central Bedfordshire Council to use the Neighbourhood Plan for Potton to help it decide planning applications in the neighbourhood area?  Yes / no
i.e. do you want CBC to  refer to the Potton Neighbourhood Plan when they are considering planning applications?
We will be holding two surgeries on 12th September (7pm – 9pm) and on 14th September (10am – 12noon), as well as attending the September Seasonal Market. Come along and discuss the Potton Neighbourhood Plan with us.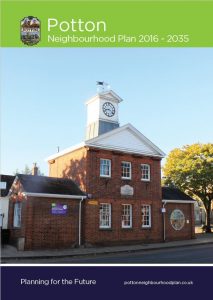 Details and dates for the referendum will be published by CBC and we will also advertise by us when we know more. You will receive a ballot card nearer the date of the referendum.
Please vote in the referendum, CBC will not adopt the Neighbourhood Plan unless it is endorsed by Potton residents.